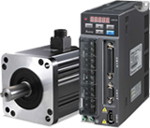 introduction
To meet the requirements of general-purpose machine tools and enhance the competitive advantage in the industrial automation market, Delta Electronics, Inc. is pleased to announce that the new high-performance and cost-effective ASDA-B2 series servo motors and drives has launched into the market.
The power rating of the ASDA-B2 series is offered from 0.1kW to 3kW. The superior properties of this series emphasize on "built-in generic functions for general-purpose applications" and "avoiding variable costs from mechatronics integration." When Delta's ASDA-B2 series is in use, the users can conveniently complete assembly, wiring and operation setups. In addition, in switching from other brands to Delta's ASDA-B2 series, outstanding quality and features, and complete product lineup make the replacement is easy and quick to achieve. Using Delta ASDA-B2 series, not only the wiring and operation becomes much easier, and the requirements of general-purpose machine tools for the market could be satisfied as well. Moreover, the customized solutions are available on request for different industries so that make ASDA-B2 series be widely popular and always in demand by the customers in the field of industrial automation.
Applications
Simple wood cutting, conveyer belt, wire drawing machine, etc. .