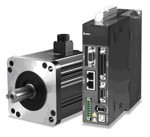 To meet the demanding requirements of motion control applications in industrial automation and satisfy the needs of high-precision positioning control requested by machine designers and system integrators, Delta launched the high-performance motion control ASDA-A2 series servo motors and servo drives in 2009.
The current trend of motion control is to have the control command source close to the drive. To catch this trend, Delta developed the new ASDA-A2 series, offering excellent motion control function so that the external controller could be almost eliminated. ASDA-A2 series features a built-in electronic cam (E-CAM) function which is the best solution for flying shear, rotary cutoff and synchronized motion applications. The whole new position control Pr mode is a unique and most significant function that provides a variety of control modes and definitely enhances system performance. The advanced CANopen interface for high-speed communication enables the drive to integrate with other parts of the automation more efficiently and effectively. The full closed-loop control, auto notch filter, vibration suppression and gantry control functions help to perform complex motions that require high precision and smooth operation. The 20-bit superior resolution encoder which is essential for accurate positioning applications is equipped as standard. In addition, the outstanding Capture and Compare functions for high-speed pulses offer the best support for stepless positioning. Other additional functionality, such as up to 1kHz frequency response, innovative editing software and the high-speed PC monitoring function (like oscilloscope), etc. all drastically maximize the performance of ASDA-A2 series.
Delta's new ASDA-A2 series is the ultimate servo system providing a total solution for a wide range of machine tools and industrial applications.